Have you received your fancy teeth or do you already own several of them? Great! To make sure that your alphabites (that's what we fondly call our fancy teeth) are fun for many years to come and retain their value, we have put together some care instructions for you:
1. cleaning your fx teeth
Cleaning is not difficult. Simply rinse your teeth with lukewarm water after use to remove any dirt and saliva. While doing so, rotate your teeth so that the water can reach all areas. Then place your teeth on a towel, cloth or paper towel and leave them to dry.
Afterwards, you can store your fx teeth in the metal box provided to keep them safe. You can also use them again immediately after cleaning if you want to use them again.
2. cleaning errors
alphabite effect teeth are manufactured with the highest standards of aesthetics and safety. The raw materials come from dental technology and are professionally processed. However, even these materials have their limits. For this reason, the following cleaning methods should be avoided:
Cleaning tabs: Chemical substances in cleaning tabs can lead to changes in the material or color.
Ultrasonic cleaners: The pressure created by the ultrasound not only dissolves dirt, it can also dissolve particles of the fx teeth themselves.
Toothbrush and toothpaste: The abrasive particles in the toothpaste and the bristles of the toothbrush cause scratches on your fx teeth during the mechanical movement. This makes them look dull and colorless after a while.
3. care instructions for wearing the fx teeth over longer periods of time
You would like to wear your fancy teeth all the time at an event lasting several days? Due to the design this is possible without any problems and without injuring your gums. But what about oral hygiene during longer wear? The alphabites have a decisive advantage over other products: They are not glued and can be easily removed from your mouth. Like eating or cleaning. Just hold your teeth under clean, running water for a short time and they are ready for use again. Thanks to individual customization, you can put them on your teeth in seconds and go on …
4. storage instructions for longer storage of fx teeth
If your alphabites are not in use for a longer period of time, you can store them gently in the metal box we supply. If you have a showcase at home, we naturally recommend showing the world what cool fx teeth you have. You can also use the box for draping.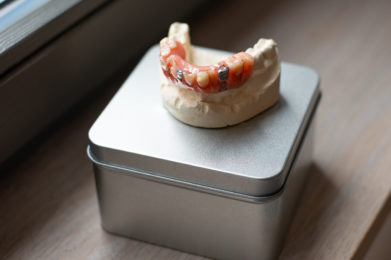 5. on the go with the fx teeth
If you have your vampire, orc or zombie fangs with you on the road but have not inserted them, we recommend that you use our metal box. There, the alphabites are protected from dust and damage of any kind. Our metal boxes are available in three different sizes. We recommend the smallest box to take with you on the road. Feel free to contact us if you have any questions!
If you still have questions about effect teeth, please contact us. We are always happy about a lively exchange of ideas, because #wearefxteeth.